What's happenning in the Starwars world?


Who played Darth Maul in Episode I?
Ray Park played Darth Maul in Episode I. The transformation was spectacular. How a normal man could end up to look like that is amazing and for the make up artist to get it the same as last time, every time, must of been painstakingly boring.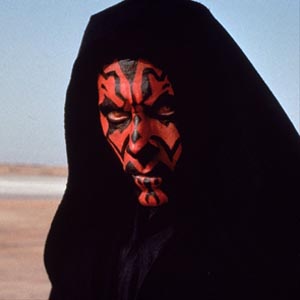 Sith and Jedi make Sounds of lightsabers?
In the beginning of when Laim Nelson ( Qui Gon Jinn), Ewan McGregor ( Obi Wan Kenobi) and Ray Park ( Darth Maul) were practicing with the light sabers for the final battle, they all started making the sound that the lightsabers made.

NEW STARWARS GAMES ON THE MARKET FROM LUCASARTS
Lucasarts have brought out a few new games and have also put 3 games into a new Trilogy. The Trilogy contains the 3 X-wing games and is out on the PC. the Other games are Battle for Naboo for the N64, Naboo Starfighter for the Playstation 2 and Starwars Demolition for the Playstation and the Dreamcast.